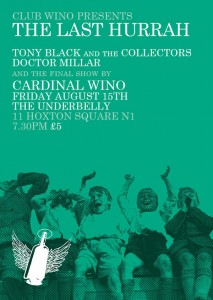 'This is the end, beautiful friend'
Friday August 15th @ The Underbelly in Hoxton sees Club Wino present Cardinal Wino's last hurrah and fond adieu.
Jonnie Drummer is taking a step away from the drum stool to concentrate on other projects and since Cardinal Wino is Jonnie, James, Jon & Neil, Club Wino VIII will be their Swansong.  So join us for a final dose of that groovy mix of countrified rock 'n' roll and some scintillating guests.
There will be a fine and fabulous appearance from Tony Black and the Collectors with their contagious mix of world, folk and pop.
Making a special trip over from Ireland we'll also have the quite marvellous Doctor Millar, a singer and songwriter of prodigious talent and we're thrilled to have him on the bill.
So, as Phil Lynott's father in law used to say, 'Come on down!'
It's the end of an era but fear not, we shall return in slightly amended form before too long. In the meantime however, let's give Jonnie a send off to be proud of. Who knows? There may even be some surprises.
'Now it's time to say adieu
I'll send a postcard from Waterloo
And I, I really like the view.'
Yours Aye & Elvisly Yours,
Cardinal Wino